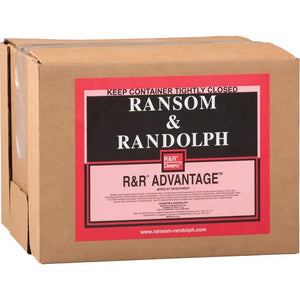 R&R ADVANTAGE® Investment is gypsum bonded investment powder excellent for casting lesser karat gold, silver, brass and bronze. Offers the jewelry caster the same consistency and product stability for which all Ransom & Randolph products are known all over the world.  Casters see a significant reduction in excess metal and water marking defects with Americast® versus other low-cost investments.  When used for high karat gold casting, Americast® Investment is considered somewhat more process sensitive than Ultra-Vest® Investment.  
Ransom and Randolph is unanimously recognized as the world leader in gypsum bonded investment powder for jewelry casting.
Weigh the investment powder and measure the mix water at a ratio of 38-40 parts water per 100 parts powder by weight (38-40 ml water per 100 g of investment). Deionized water is recommended.
6HR.Cycle21⁄2"x21⁄2"Flasks

8HR.Cycle31/2"x 4"Flasks

12HR.Cycle 4"x8"Flasks

2 HR. @ 300°F

2 HR. @ 149°C

2 HR. @ 300°F

2 HR. @ 149°C

2 HR. @ 300°F

2 HR. @ 149°C

1 HR. @ 700°F

1 HR. @ 371°C

2 HR. @ 700°F

2 HR. @ 371°C

2 HR. @ 600°F

2 HR.@315°C

2 HR. @ 1350°F

2 HR. @ 732°C

3 HR. @ 1350°F

3 HR. @ 732°C

2 HR. @ 900°F

2 HR. @ 482°C

 

 

4 HR. @ 1350°F

4 HR. @ 732°F

1 Hr. Heat Soak At Mold Casting Temperature

1 Hr. Heat Soak At Mold Casting Temperature

2 Hr. Heat Soak At Mold Casting Temperature
Made in USA