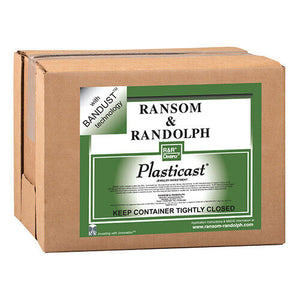 Plasticast was developed for the investing and burnout of commonly used plastic or wax/plastic pattern materials. Ideal for resin models created in rapid prototype processes. The high expansion of all these pattern materials requires an equally high expanding, extra high strength investment. Plasticast provides a smoother, cleaner casting surface not obtainable with standard brands of investment.

Plasticast is designed for easy removal in water. Plasticast also provides a superior casting surface when standard injection waxes are used.
Ransom and Randolph is unanimously recognized as the world leader in gypsum bonded investment powder for jewelry casting.
New BANDUST™ technology significantly reduces total respirable dust — up to 99% compared to other brands of jewelry investment. Additional testing was conducted during the quench phase of the casting cycle and the report concluded

 

no measurable respirable dust from BANDUST™ flasks.
Casters using BANDUST™ products indicate noticeably less dust overall during the investing process with the added benefit of improved housekeeping overall. Casting quality is maintained with excellent final casting results and no process changes are required during the investing stage.

Features:
Up to 99% less respirable dust exposure during the investing process depending on which conventional investment you use.
No measurable respirable dust during quench.
Less total dust overall during the investing process.
The high standard of casting excellence that only R&R provides.
44 lb. box.
Instructions available upon request.


Made in USA