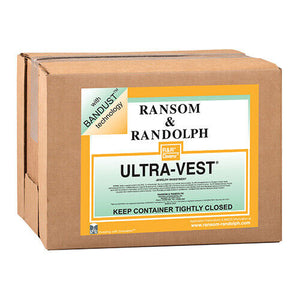 Recognized worldwide as the premium investment for gold, silver, brass, and other non-ferrous jewelry castings. Provides easy quench and easy clean-up reducing your risk of losing valuable gold. Ultra-Vest investment produces smoother surfaces than other investments, resulting in less finishing.

Worldwide, Ultra-Vest is widely accepted as being the most process forgiving product available for your casting needs saving you time and money associated with application-related defects. Whether you are casting a simple piece or an intricate shape, Ultra-Vest investment is the investment of choice.
Ransom and Randolph is unanimously recognized as the world leader in gypsum bonded investment powder for jewelry casting.
New BANDUST™ technology significantly reduces total respirable dust — up to 99% compared to other brands of jewelry investment. Additional testing was conducted during the quench phase of the casting cycle and the report concluded

 

no measurable respirable dust from BANDUST™ flasks.
Casters using BANDUST™ products indicate noticeably less dust overall during the investing process with the added benefit of improved housekeeping overall. Casting quality is maintained with excellent final casting results and no process changes are required during the investing stage.

Features:
Up to 99% less respirable dust exposure during the investing process depending on which conventional investment you use.
No measurable respirable dust during quench.
Less total dust overall during the investing process.
The high standard of casting excellence that only R&R provides.
50 lb. box.
Instructions available upon request.


Made in USA